Black Fell 21st February 2015 13:26hrs 7/2015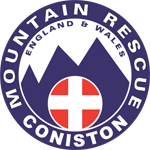 The afternoon was dry with sunny spells and intermittent cloud. There was a steady breeze.
We were asked to go to the aid of a boy who had fallen whilst scrambling up rock. He and his family had been making their way up Black Fell which rises above Skelwith Fold, when the accident happened.
Prior to setting off the casualty's location was confirmed using the SARLOC system. A land rover was quickly deployed. During the journey there, a team member who had made his own way to the incident, was able to direct the team to the exact spot. After negotiating a gate topped with barbed wire, we soon met up with the boy and his family. He had taken a tumble when a boulder had dislodged and suffered bruising or a possible rib fracture as well as abrasions to a very sore hip. He had been able to walk a short distance until it became too painful. He was given pain relief before being lifted on to the stretcher for the short carry down the fell to the land rover. On return to the base the young casualty was transferred to the waiting ambulance for his onward journey to hospital.
10 Team Personnel attended this call out which took 2 ½ hours.