Click on the three tabs below to view the known "Hot Spots"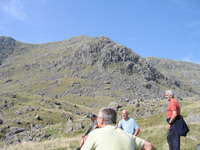 Great How in the Coniston Fells – a trap for unwary walkers, Great How in the Coniston Fells is a long prow of rocky ground which points eastwards from Swirl Band, part of the ridge that lies between Great Carrs and Brim Fell on route to Coniston Old Man. Great How is best seen from Levers Water where it appears as a steep impenetrable crag with easier ground above. In fact, a grade 2 rock scramble leads intricately through the slabs and buttresses to the top. 'An interesting route on good rock and an excellent way to the top', according to the scrambling guide. Great How is also recommended for rock climbers with route grades varying between "very difficult and extreme".
Why then, you will be asking, is this of any interest to walkers? The reason is that walkers regularly stray onto Great How by mistake thinking that they are descending the path from Levers Hawse down to Levers Water. It is a simple mistake to make; a very tempting path seems to lead exactly where you want to go. The ground slowly becomes steeper and eventually you will find yourself on near vertical rock, no doubt in a state of considerable apprehension. Walkers going south along Swirl Band towards Brim Fell make this mistake; it is a further 600 metres south along the ridge before you reach the actual Levers Water path. Walkers going north heading for the path at Swirl How that goes down Prison Band towards Wetherlam also make the same mistake
Over the years Coniston Mountain Rescue Team have been called to numerous parties in difficulties here, usually at the end of the day when darkness is falling. In one case, a party of three followed the ridge down until they found themselves in a small gully; realising that they were not where they should be, they retreated back up the ridge. As they retreated, one member of the party dislodged a large rock which fell and trapped the legs of a female member of the party; even with their combined efforts the two men were unable to move it. They called for assistance and the rescue team went to their aid. Night had now fallen but there was a full moon which as well as making it possible to work without lights also made the rescue one of those special experiences which all mountain people cherish. An RAF helicopter was sent from Kinloss in Scotland and with a beautiful display of night flying, the casualty was winched to safety.
Another callout saw a family of four get themselves into similar difficulties but had persevered with their descent and become cragfast on very steep rocks. The rescue involved setting up rope systems to lower them in several stages to easier ground. A 'mountain rescue' in the true sense of the words; something that the team trains for but rarely has the chance to put into practice.
This is not a new problem for the team; walkers have been getting themselves into difficulty here for years. Some time ago the team decided to build a simple drystone wall across the path in the hopes that people might question whether or not they were on the right route; this was soon knocked down. The rescue team does not mind rescuing people; that is what they volunteer and train for; however, it is important to try and minimise unnecessary injuries to people and to avoid the possibility of the consequences being much more serious or even fatal. So walkers, if you are planning to descend to Levers Water from Swirl Band, especially in failing light or poor weather conditions, be warned and make sure that you are on the right path. The right path descends from Levers Hawse, the lowest part of the route between Great Carrs and Coniston Old Man. The path is marked by a cairn on the main path and a line of cairns leads across grass to the edge some 50 metres on where a well trodden path takes you safely down to Levers Water. If you are travelling north intending to go down Prison Band from Swirl How then do not fall into the trap of going down Great How. The path that you want is 1.2 kilometres beyond Levers Hawse and another 600 metres after the Great How path. It is a true T junction when you get there with the ground dropping away rapidly in front of you. There is also a significant cairn, it is at least two metres high and you can't miss it.
There has been a major slip above the portal, the portal itself is damaged and partially blocked.  The first 50 feet or so of the tunnel is not in solid rock but the roof is man-made and we do not know the exact condition.  It is not known how stable the mine is at this stage and it would be wise to avoid until this is ascertained.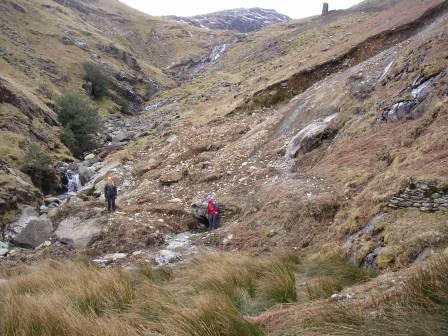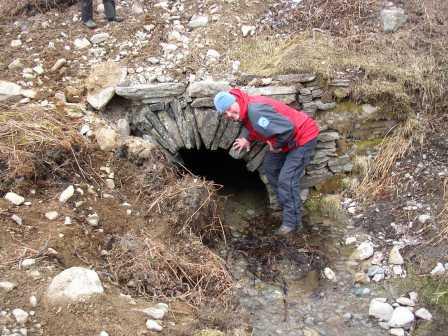 Exploration of the old copper mines and slate quarries in the Coniston area can be a fascinating day out, however, caution should be exercised. The underground slate quarries, locally known as 'closeheads' are predominantly inside the Old Man of Coniston and Brown Pike.  These slate quarries can hold hidden dangers, there are internal steep passages and near vertical shafts and a large quantity of spoil heaps which can be unstable.
The copper mines, scattered around most of the rest of the Coniston fells, have similar dangers to the slate closeheads but there are significant other issues to be aware of.  The copper was in almost vertical stopes (veins) and was extracted by building false floors.  These are suspended on thick poles, covered with tons of 'deads' (spoil) and then a layer of clay.  These false floors can appear to be solid to the uninitiated but they are now getting very weak, the supporting timbers have been exposed to damp for well over a hundred years.  In places the vertical drop can be in excess of a hundred feet down some of the shafts and open stopes.  The water in some of the open stopes and shafts can be over 1500 feet deep.
We would not want to suggest that you should not explore these workings but before going underground please ensure you are wearing a proper safety helmet with a head torch fitted to leave your hands free, wear sturdy boots, ensure that someone knows where you are going and when to expect you back.  If at all possible please arrange to go with someone who knows the mines, not only will this be safer but they will be able to make the visit more interesting by giving background information on the things you see and find.