Goats Hause 4th July 2012 14:00hrs (18/2012)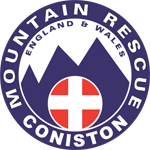 A young man was with an army training group. They were walking along the main tourist track from Goats Hawse to the top of the Old Man when he slipped over on his ankle.
This resulted in an injury, possibly a fracture, to his lower leg. Although the Air Ambulance attempted to assist with the evacuation they had to turn back due to the low cloud and mist. This meant that the team was faced with a long and quite difficult carry out to the Walna Scar road where our landrover ambulance was parked. Not only was it steep in places, but the path by Goats Water is full of boulders. The damp weather did not help as this obviously caused the terrain to be slippy too.
It was decided to ask Duddon & Furness Mountain Rescue Team for assistance, and they helped with the stretcher carry. It was well appreciated.
The casualty was given pain relief, his leg was splinted and then he was evacuated safely down the mountain. An ambulance was already waiting for him at the Rescue Base.
The whole call out deployed over 20 rescue team members and took 4 hours.
---