Levers Hawse 14th September 2015 15:26hrs 49/2015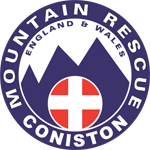 The weather was cloudy but dry.
We were asked to go to the aid of a female who had collapsed whilst out walking.
The initial information received did not actually provide a location. However following a phone call by the Team Leader to the party, it was ascertained that she was on Levers Hawse, which is part of the main Coniston Old Man ridge. It was thought the incident manifested from a current medical condition.
Due to the possible seriousness of this call out and the locality, we contacted the Great North Air Ambulance and requested their assistance. Fortunately they were able to deploy a helicopter to the area immediately. Two land rovers left the base and parked up at Levers Water. The GNAA expected to arrive on scene well before the team, so members took the stretcher and Casualty Bag to assist with the evacuation. However, during the walk round the reservoir, we received notification from the Air Ambulance that they had landed within a close proximity to the lady and could manage without the need for our equipment. We therefore returned to our vehicles.
10 Team Personnel attended this call out which took just under 1 1/2 hours.