Little Langdale 10th May 2014 9:12hrs 16/2014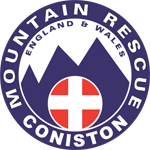 This incident was initiated at 6.38am on the Saturday morning by the police. The period between then and the full team call out was spent by the Team Leader liaising with Cumbria Police and Langdale and Ambleside Mountain Rescue Team.
The weather remained mainly damp with heavy showers throughout the day.
A young man had been reported missing from late the previous evening leading to a high degree of concern for his safety. The area designated for the search bordered LAMRT's and Coniston's home ground, hence their involvement.
The Team members were split in to two parties each supported by police and police dog handlers and tasked to search the quarries and caves within the Little Langdale, Tilberthwaite and Hodge Close areas. However, during this time, two members of the public approached one of the groups. Their information lead to the location and subsequent identification of the missing person who had been seen at Moss Rigg Quarry. While the Team stoodby, the police were able to negotiate with the young man and he was safely apprehended.
In total 13 Coniston Team Members responded to this call out which took 6 1/2 hours from when active, but had in reality taken 9 hours from the initial request for assistance by Cumbria Police.