Newly-qualified search dog Lewis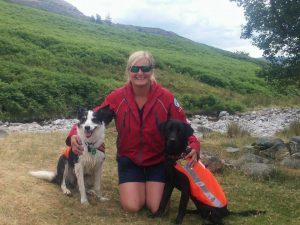 Team Chair Christyne Judge and her Black Labrador search dog Lewis have recently 'graded', which means that they are now a fully-qualified dog/handler team, and on the Lake District Mountain Rescue Search Dogs Association call-out list. Training a search dog to this standard typically takes two years, but progress was slowed down by the Covid restrictions in 2020/21. There are a minimum of 14 assessments to be passed, each lasting a minimum of two hours. For Christyne/Lewis, this included a 5.5 hour assessment high on the mountains above Greenburn Reservoir, and night searches.
Lewis is the third dog that Christyne has graded, the first being Skye, and the second, Bute, is about to retire.
Congratulations to Christyne, and a warm welcome to our newest member, Lewis the search dog.