Sunny Bank, Nr Torver 19th January 2014 12:28hrs 3/2014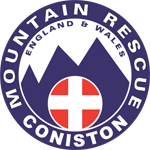 The weather was damp with only a slight breeze.
The North West Ambulance Service requested our help with the evacuation of a lady who had slipped down an embankment. She had sustained a suspected head and back injury.
The paramedics had already treated the casualty and due to her location the team were able to move her to a waiting ambulance via the Coniston Boating Centre's safety boat which had been called to the scene. Once relocated to the waiting ambulance she was taken to hospital..
11 team personnel responded to this incident which, due to its close location, took only 1 hour.