Low Water Beck 25th June 14:27hrs 30/2016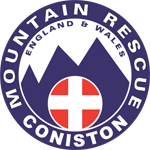 It was a beautiful warm afternoon though rain was anticipated at some point.
The team was contacted by CUMPOL who had received a call from a lone female walker who had fallen and twisted her ankle.
A full team call out was made. The female casualty was contacted by the team and her location was eventually found near the top left side of Low Water Beck.
The lady was soon treated for her injury and then was placed on the stretcher for her evacuation.
Due to the difficult and steep terrain it was decided that help would be required. DFMRT were contacted to assist with this rescue. It was agreed that they would ascend the tourist track to low water and meet the team with the casualty and help with the evacuation, while the members of Coniston went back to retrieve their kit from the casualty site.
In order to get the casualty on to the main track it was decided that we had to first cross Low Water beck in the direction of Willy Shaws level and then ascend to Low Water itself to regain the easy path down to meet DFMRT.
It was a very difficult carry and the stretcher was initially belayed till easier ground was reached.
On the main track we met up with DFMRT and they helped with the stretcher carry back to the waiting Land Rover.
The lady was driven down to the base to meet with the NWAS paramedics. The lady decided that further treatment was not required and so the NWAS team returned the lady to her hotel.
In total 14 team members from Coniston MRT and 8 members from Dudden and Furness MRT attended this rescue which lasted just over 3 1/2 hours.