Old Man of Coniston 17th June 2017, 12:25hrs 20/2017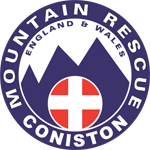 The weather was extremely warm with a few clouds scattered in the sky.
The team was contacted by NWAS (North West Ambulance Service) to an incident involving a man whom had collapsed near to the summit of the Old Man of Coniston. A Helimed was immediately requested and a full team call out was initiated.
The vehicles set off for Bursting Stone Quarry which is the closest we can get to the summit before we have to disembark and walk. It was reported that the casualties condition was deteriorating so a Search and Rescue Helicopter was requested.
The team were soon on scene with a Doctor and Paramedic from the Great North Air Ambulance. Sadly the casualty was unresponsive to treatment and he sadly passed.
The team carried the man down to the vehicles and returned him to base to await the police.
In total 10 members of Coniston MRT and 8 members of Duddon and Furness MRT attended this incident which lasted just over 4 hours.
Our thoughts and prayers are with the gentlemen's family and friends. We are very sorry for your loss.