Swirl Howe & Prison Band 17th August 2017 15:19hrs 26/2017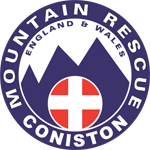 The tops were cloud covered and strong winds were present making it difficult for assistance by helicopters.
The team were contacted by Cumbria Police (CUMPOL) to an incident involving a lady falling on Prison Band and suffering a ankle injury.
A full team call out was initiated and members made there way to the scene via Levers Hause after leaving the vehicles at Levers Water.
The Great North Air Ambulance had also been tasked to assist but they were unable to land due to the weather conditions.
The team made there way to the scene where the lady was given pain relief while her leg was splinted and for her extraction by stretcher.
Due to the location of the incident it was decided to stretcher the casualty down Wet Side Edge to rendezvous with the ambulance on Wrynose Pass. It would be a long carry but much easier than descending Levers Hause.
On arrival on Wrynose Pass the casualty was transferred in to the care of paramedics from the North West Ambulance Service and was then taken to Barrow in Furness for further treatment at Hospital.
In total this call out involved 19 team members and lasted just under 5 hours.