Old Man of Coniston 25th October 2017 09:23hrs 36/2017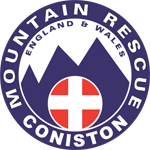 The team were contacted by Cumbria Police to an incident on the Old Man of Coniston.
It was reported that a male had collapsed on the main path through the disused slate quarries ascending the mountain.
Due to the serious nature of the incident the team quickly made way to locate the male walker.
The Great North Air Ambulance Service had also been requested.
Despite the best efforts of all involved the man could not be saved.
Our thoughts and prayers are with the Gentleman's family at this sad time.
In total 11 members attended this incident which lasted 3 hours.