Tom Ghyll 29th August 12:55hrs (31/2012)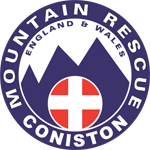 Once again I had the choice whether to leave my desk at work or attend this call out. Second day on the trot. No contest really. We have had quite a few call outs this month and yet the team continues to man these incidents well. 15 members turned out for this one…and it was raining hard !!
A lady was walking down the main track towards Glen Mary Bridge from Tarn Haws to view the Tom Ghyll waterfalls. She slipped and banged her head, resulting in a deep cut to her forehead.
It is difficult to assess the seriousness of a head injury as the symptoms do not always manifest immediately. Fortunately the North West Air Ambulance was able to attend and paramedics were already on scene when the team arrived. Although we had the stretcher ready it was decided to assist the lady in walking to the ambulance where she would be assessed. She was well and able to do this comfortably.
She was later taken to the Royal Lancaster Infirmary. It only took 1 1/4 hrs to deal with this call out due to the close location and simple evacuation.