Holme Fell 8th May 14:18hrs 20/2016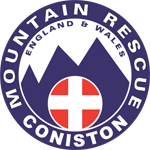 The weather was very warm with a cooling breeze on the tops.
The team were tasked by Cumbria Police to go the the aid of a female walker who had lost her husband coming off Holme Fell. The couple had walked from Hodge close and we're heading to Tarn Hows and had mistakenly followed a sheep trod off the top instead of a path. They had got into steep and difficult ground. The lady had managed to ascend this back to the top and had believed her husband would be following on. The Police were alerted when the husband had not appeared. Also reported in the call out was that the male had previously suffered some heart problems.
Due to the nature of the call out and the time the man had been missing a full team call out was initiated.
Two land rovers left the base. One team would come in from Hodge close and the other team would come in from Yew Tree Tarn. The lady was located on top and she showed us where she had last seen her husband. We then started to search down the difficult terrain while the lady waited on top with another team member.
Soon after we started searching the team leader was contacted by the police who told us that the gentlemen had managed to get down and was looking for his wife. Therefore we all headed back up and the couple were soon reunited.
In total this call out involved 11 team members which lasted just over 2 and a half hours.