Wasdale 12th March 2014 05:13hrs 9/2014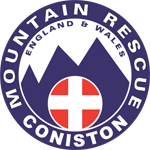 The day remained dry, sunny and mild with cloudless skies.
The team was asked to assist Duddon & Furness MRT and Wasdale MRT with the search for a missing walker. The search itself had commenced late the previous evening when the gentleman had been reported missing by his wife. By the next morning Wasdale, Duddon and Furness, Cockermouth, Keswick, Kirby Stephen, Coniston and Kendal Mountain rescue teams were helping together with the Lake District Search and Rescue Dogs.
Coniston MRT was tasked to search various areas with other MR teams doing the same, the main routes being the tourist tracks on and surrounding the Scafell range and Great Gable, together with all the neighbouring mountains and valleys. Coniston split into two groups to maximise search area. At mid-day two team personnel returned to base with the main land rover so that in the event of a local call out, we had enough team members and vehicles to respond.
During our second search of the day we were informed that a member of the public had possibly found the casualty. The other teams were alerted whilst we continued to the location as we were already on the approach. When Wasdale MRT arrived they took over as this was originally their call out.
12 Coniston Team members attended this incident and we were out 11 ¾ hours. However, in total, 6 Mountain Rescue Teams had been deployed.