Swirl Howe / Grey Friar 15:42hrs 30th October (42/2012)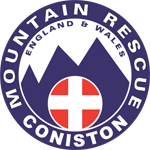 A couple became lost whilst they were walking along the Coniston Old Man ridge. As visibility was poor due to mist and oncoming darkness, they asked for help.
We split up into three teams approaching the ridge from different routes. One team was tasked with searching the area around Swirl Howe and Great Carr, one ascended the ridge via Goatshause, and the other started from the quarries. One of our team members also brought her dog, a trained SARDA dog.
We did have a Grid Reference and then a mobile phone photo of the area the couple said they were. Obviously this was a great help even if this did not seem to tie up with the information that they were on or near the ridge.
Progress was hampered by high winds, mist and darkness, and the odd rain shower didn't help as the going underfoot was already slippy. Eventually, shouts were heard and then a torchlight seen. The man and woman were found on a track which leads to Grey Friar, another fell in this range. The area is known as Fairfield. There was relief all round as this was not a good night to be out.
The party descended safely via Prison Band to Levers Water where the landrover was waiting. Back at the base the couple were given a hot drink before they left. The team made their way to a local pub where chips and drinks were on offer….most welcome.
The call out took 5 hours.